Have a question about bail or bail bondsmen?
Check out our FAQ (Frequently Asked Questions) below:
Bail Bonds FAQ
How much do bondsmen charge in Virginia?
---
In the state of Virginia bail bond rates are set at 10% of the total amount of the bond (known as the face amount). For example, on a $1,000 bond the bond fee (or "premium") would be $100.
---
What information should I try to know before contacting a bondsman?
---
In order to speed up the bail process there is certain information that you should try to collect before calling your bondsman. Bondsmen usually like to know:
What is the defendant's full name?

Where is the person in custody?

(city, county, name of jail)

How much is the bond?

If you don't know the bond amount, providing the person's full name and the location of where they are in custody is necessary for the bondsman to confirm the bond amount.

Any requirements placed on the person's bond, if you are aware of them.

Some bonds have requirements, such as requiring a specific person to sign as a custodian for the bond. If you are aware of these requirements, it is always preferable to let the bondsman know so that issues don't arise when attempting to post the bond.

Is the defendant on probation, parole, and/or were they previously out under another bond when they were most recently arrested?

Are you willing to co-sign for the person's release on bail?

Most bonds require having a co-signer before the bondsman will agree to post bail for that person. Are you willing to be that co-signer and if not, is there another person who will co-sign? Co-signers are usually required to have a job (or own their own home) and often must show a pay-stub, so keep that in mind!
---
How does the bail process work?
---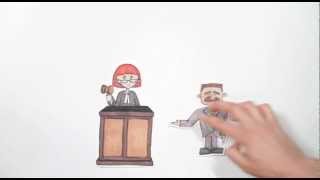 via http://www.aboutbail.com
---
Does Apex Bail Bonds accept credit cards?
---
Yes! At Apex Bail Bonds we accept all major credit cards and can process your payment by phone or in person. Simply call (434) 548-APEX to speak to a licensed Virginia bondsman and ask about credit card payments for more information.
---
What do bondsman accept as collateral?
---
On larger bonds, collateral may be required. In those cases, bondsman general accept any "real" or physical property that has value as collateral. Some examples include:
Cars
Real estate
Jewlery
Credit cards
Stocks
Bonds
Other motorized vehicles
Contact a bondsman at Apex Bail Bonds in Danville, Virginia for more information regarding collateral by calling (434) 548-2739.
---
Does Apex Bail Bonds have a bondsman near me?
---
At Apex Bail Bonds we pride ourselves in providing fast, affordable, and easily accessible bail bonds services throughout Southside Virginia. Our service area by county includes:
Pittsylvania County
Halifax County
Mecklenburg County
Henry County
Franklin County
Patrick County
Roanoke County
Bedford County
Campbell County
Appomattox County
Prince Edward County
Charlotte County
We also service all surrounding areas with fully responsive bail bonds services and have a fully licensed bondsman for anywhere in the state of Virginia.
---
How do I get a bail bond?
---
There are several ways to post bond. The easiest and most common way is to use a licensed bail bondsman who will charge you only 10% of the bond amount. Other ways to post your own bail include:
Post cash for the full amount of the bond.
Use real property (such as a home or land) as collateral with the court or jail.
Be released on your own recognizance, if a judge allows it.
---
---